LIFER: Studies on the regulation of lipid flippases (P4 ATPases) by interacting protein partners.
In the LIFER project, supported by Villum Fonden, we are aiming at finding which proteins interact with and regulate plant lipid flippases involved in responses to stress conditions.
As a model, we are using ALA10, and Arabidopsis flippase important for stress responses to phosphate deficiency. This is a major issue in agricultural production as it results in the use of enormous amount of phosphate-containing fertilizers and the pollution of ground-water sources.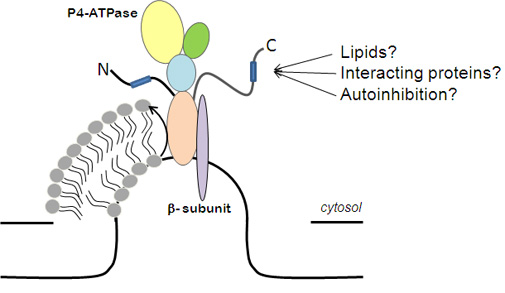 Many members of the P-type ATPase family, that includes the lipid-transporting P4-ATPases (also known lipid flippases), are involved in relevant physiological functions, such as the generation of electrochemical gradients across membranes or cell detoxification. In accordance to their relevance, P-type ATPases are subjected to several regulatory mechanisms (phosphorylation/dephosphorylation, presence of autoinhibitory domains, interaction with activating proteins).
In yeast, several flippases of the P4 family are known to be regulated by interaction with proteins involved in vesicle production. Due to the higher complexity of plants and mammals with respect to yeast, flippases in these organisms are also expected to have interaction partners relevant for the fulfilment of their physiological roles.
Davis, JA, Pares RB, Bernstein T, McDowell SC, Brown E, Stubrich J, Rosenberg A, Cahoon E.B, Cahoon RE, Poulsen LR, Palmgren M, López-Marqués RL, Harper JF. Two lipid flippases, ALA4 and ALA5, are critical to cell expansion and plant growth in Arabidopsis. Plant Physiology (2019), accepted
Nintemann SJ, Palmgren M, López-Marqués RL. Catch You on the Flip Side: A Critical Review of Flippase Mutant Phenotypes. Trends Plant Sci., 24 (2019) 468-478.
Palmgren M, Østerberg JT, Nintemann SJ, Poulsen LR, López-Marqués RL. Evolution and a revised nomenclature of P4 ATPases, a eukaryotic family of lipid flippases. Biochim Biophys Acta Biomembr. 1861 (2019) 1135-1151.
Contact
Project leader

Rosa López-Marqués
M: rlo@plen.ku.dk
Ph: +45 35 33 26 02
Funding

The project is funded by Villum Fonden.
Project duration: 1 April 2016 - 15 July 2020.