14. oktober 2022
Læs institutleder Svend Christensens tale til PLEN's 10-års fødselsdag (på engelsk)
PLEN 10 YEARS
The Department of Plant & Environmental Sciences celebrated 10 years of science, education and collaboration at University of Copenhagen on 14 October 2022. In his anniversary speech, Professor Svend Christensen, Head of Department, took the audience on a historic journey back to the roots of the department, on to its current state, and into the future. Read the speech in its entirety below.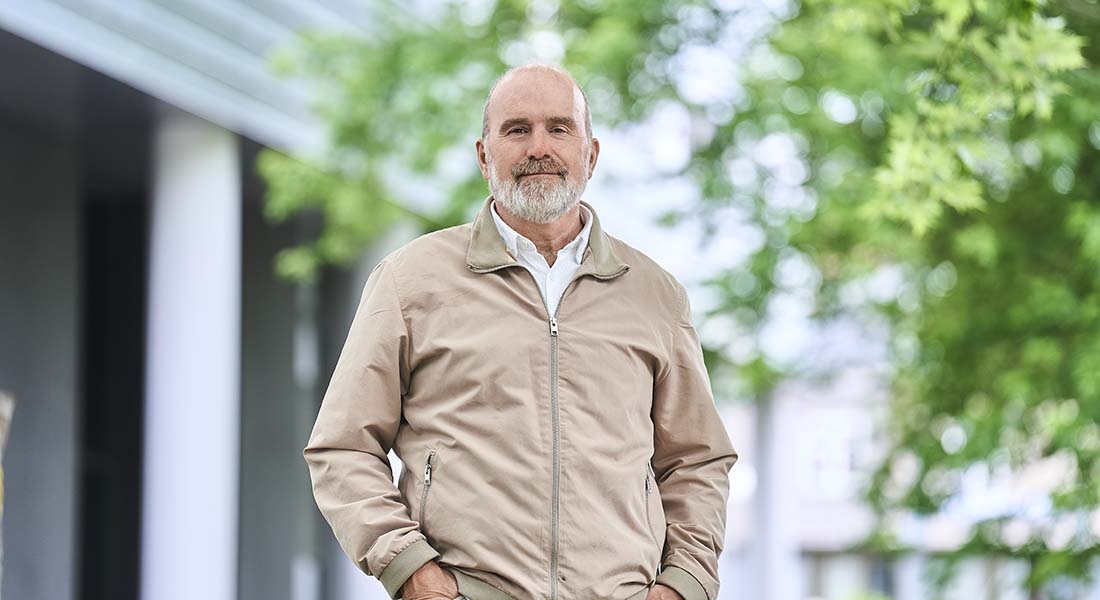 Today we celebrate the anniversary of PLEN. Ten years may not sound like a long time. After all, the University of Copenhagen was founded in 1479 – 13 years before Christopher Columbus' first voyage to the new world. In that context, ten years may seem like a blink of an eye. But for many of us who were there in 2012, when we established PLEN, 10 years is an important milestone. It shows that we made the right decision in bringing different people together under one department.
PLEN did not suddenly shoot from the ground like a bamboo in spring. The story goes back a lot longer than ten years. Still not as far as 1479. Well, at least not in my case. So let me tell you the history of PLEN.
The historical roots of PLEN
The next time you walk through the entrance to the Faculty of Science on Bülowsvej 17, look up! The name engraved in the wall above the door is Den Kongelige Veterinær og Landbrugshøjskole, the Danish name for The Royal Danish Veterinary and Agricultural University, also known as KVL.
KVL was founded in 1856 with the vision to create an educational institution that would produce knowledge and skilled graduates in the fields of plant, animal production, forestry and horticulture. The university should make the latest technology and research available, so that farmers could increase their yield in a way that would ensure food and livelihood for a growing population.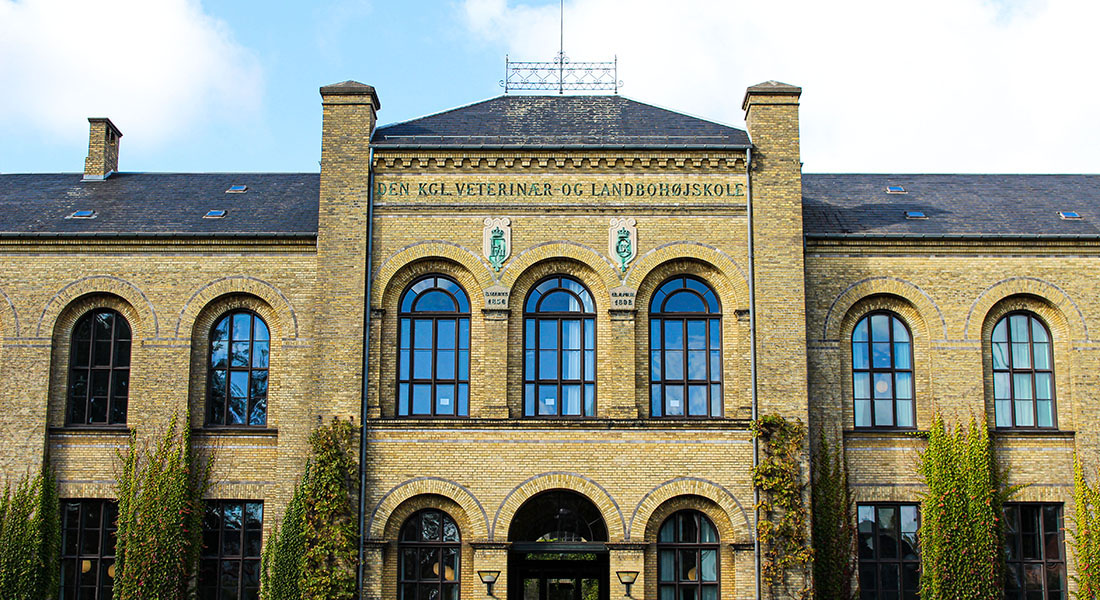 Denmark was different then. About 80 percent of the Danish population lived in the country. Frederiksberg also looked very different. Farmland surrounded the old university, so there was enough room to establish the university garden, experimental fields and an adjacent fruit orchard. Our gardeners today still tend to the 6000 plants in the garden. The fruit orchard became bigger and eventually moved to the Pometum in Taastrup.
Many people know the beautiful old auditorium. At least you have been there when our new professors deliver their inaugural lectures in the main auditorium at the faculty. Next time you are there, you should look up at illustrations of livestock and crops, remnants from our common roots at KVL.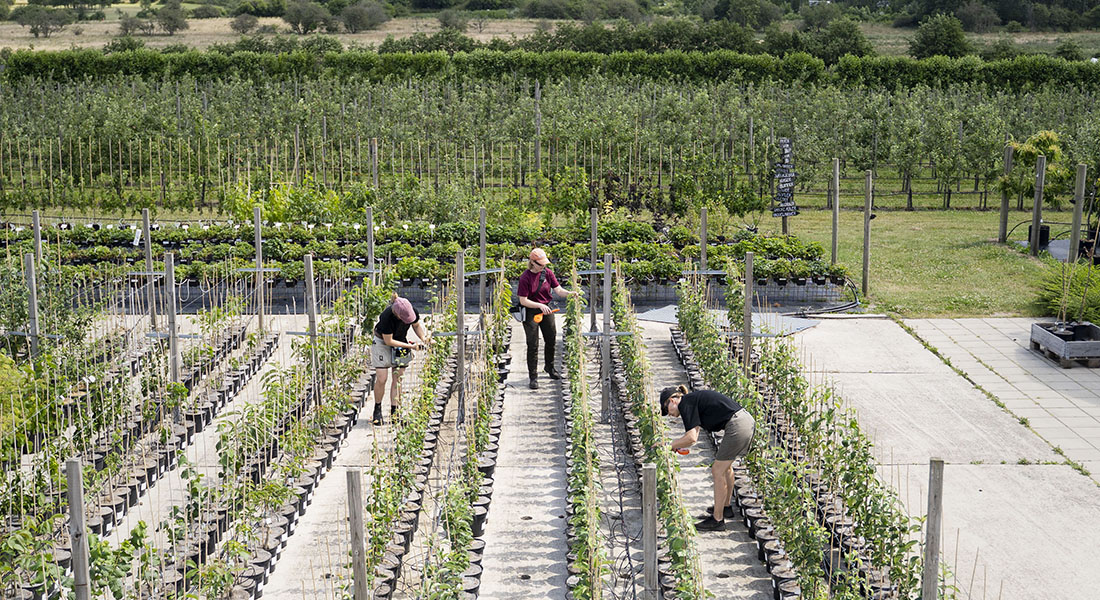 Visions in 2012 for the new PLEN
For 150 years, KVL existed in the field border between city and country, and between basic and applied research. In 2007, KVL became part of University of Copenhagen, and it still is today. In 2012, we merged Department of Plant Biology and Biotechnology, Department of Agriculture and Ecology, and the Section of Environmental Chemistry and Physics from the Department of Basic Research and Environment, into one department PLEN.
We decided to name it the Department of Plant and Environmental Science, or PLEN, which is the first two letters of Plant and Environment. Why the name Department of Plant and Environmental Science? Because it sounded better than our other option: The Department of Plant Biology, Biochemistry, Agronomy, Biotechnology, Horticulture, Pathogens, Ecology, Environmental Chemistry and Physics, Organisms. I am sorry if I forgot someone, but I am sure you see the problem in getting the right name.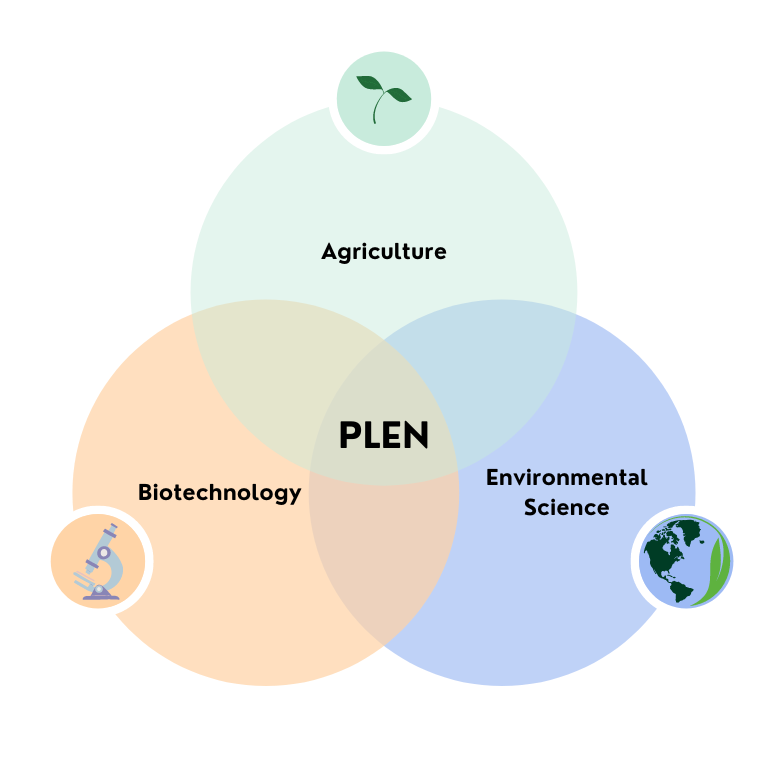 During the 1900s, we saw Agronomy branching into several academic disciplines. Our vision in 2012 was to bring some of these disciplines back together. Research and education at PLEN revolves around three main areas. Agricultural Science, Biotechnology and Environmental Science. Despite being from different research areas, we all work with basic and applied research within one or more of these circles.
The three circles show how the one-education programme in Agronomy before the 2000s changed into our different education and teaching landscape of today. Since we represent many disciplines, we also teach in many other education programmes. In her speech earlier, the Dean also recognised PLEN for collaborating across the faculty and the university. I believe we are excellent at collaborating, because we are used to teaching in many other education programmes.
How far have we gotten?
In 2017, an international assessment panel wrote this in their evaluation of PLEN. I quote:
"Research at PLEN and especially translational activities into society are impressive, providing PLEN not only a key role in the Faculty of Science at UCPH but making it a highly competitive key player for research (and education) in the areas of agriculture, biotechnology and environmental sciences at a worldwide scale. Staff members in PLEN are highly engaged and productive as evidenced by a considerable number of outstanding scientific contributions, the success in attracting external research funding, a large number of innovations, patents and founded spin-off companies, as well as manifold activities to communicate science into society. This success is especially remarkable in view of the decrease in basic institutional funding that PLEN experienced over the past years. Overall, PLEN has a strong and in large part excellent standing in all aspects related to its research."
As the next department assessment approaches, I feel that we have continued our course in the right direction. We have managed to attract and keep excellent scientists and staff. It makes me proud and happy that we have managed to combine basic and applied research, while maintaining high-quality education and a good working environment – even during the coronavirus pandemic.
What makes PLEN special is that we have so many brilliant people working here who are all experts in what they do.
We may not have succeeded in everything all the time. Some things are simply out of our hands, such as the decline of applications to our educations, or incomplete construction of new buildings.
I like to think that PLEN carried over the spirit of KVL. For one reason. What shaped KVL was not its purpose, the buildings or its sections. It was the people. Employees and students developed the university together, responding to changes in the world. We have a wide range of unique facilities and unique expertise. What makes PLEN special is that we have so many brilliant people working here who are all experts in what they do.
PLEN in the future
Agriculture, biotechnology and environment pressure remains important parts of the global challenges but also solutions. They are defining factors in the current climate, environment, and biodiversity crisis we face – and the key to their solutions. As we are becoming more people on the planet, the demand for food increases - and with the war in Ukraine, food security is once again an important issue.
How can we produce sustainable and healthy food and products with less impact on the environment and the climate? Society calls for our knowledge and graduates who can help solve these global problems, just as society called on KVL in the 1800s. We may live in a different time and world than the first staff and students who filled the halls of KVL in 1858 - but how different are we from them?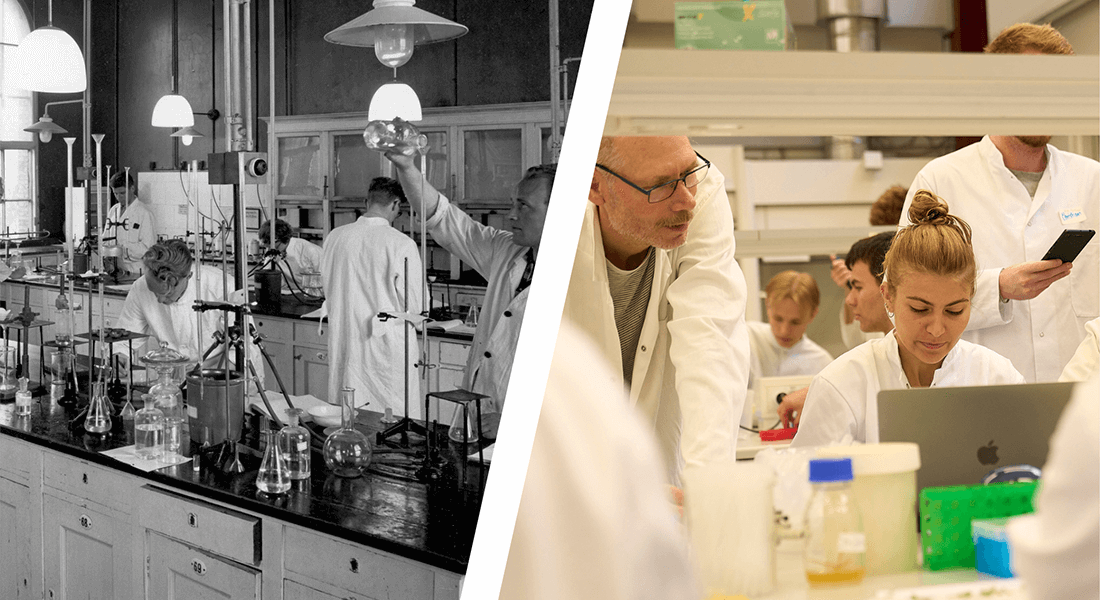 These global challenges put a lot of pressure on us, but they have not been the biggest challenge for PLEN. Since we became part of the University of Copenhagen, we lost the KVL identity, and had to work hard on creating our own identity. When I look at you today, I feel we succeeded. We should be proud of what we have accomplished in the last 10 years. There is no doubt in my mind today that we have a strong and viable department. But I am also certain that we will continue to change and adapt to new challenges in the future.
In a moment, some of our students will present the Smedjerevyen. There's a fun story behind that name. Smedje means forge. At KVL there used to be a forge. In 1977, it was to be demolished, but a group of students wanted to preserve it, so they occupied Rector's office and guarded the forge for months in protest. The forge was secretly demolished in the night during the Easter holiday, when the students were at home. Every year since then, Smedjerevyen has brought our students together with music, entertainment and laughs. Everyone, please welcome Smedjerevyen!
Emner